We're all getting ready to bare all as the sun starts to shine and summer starts to appear. So here are the top 3 essential beauty buys to help you on your way!
When your at the beach you don't want to have to wear a ton of make-up, however a little bit can help us feel that bit more confident. Personally I never wear foundation or anything on my skin apart from sun tan lotion when I go to the beach, but for those who want the look of wearing a light foundation. I highly recommend Clinique Moisture Sheer Tint SPF15, it costs roughly £17, however if you wait till there's a sale or promotion on I'm sure you can get it for cheaper or shop around. It disguises open pores and small blemishes as well as protecting your skin against the sun and from becoming dry. It's also quite nice just to wear normally because in Summer no one wants to wear lots of make-up since you just sweat it all off (Disgusting!) the less or lighter you can wear the better, and this is really pleasant to wear and also doesn't smell awful. I have found that others do, although I can't remember there names off the top of my head.
MaxFactor's Masterpiece Mascara retails at £9.99 (from boots) and I am inlove! with this mascara. I always wear this and haven't really tried anything else since having this. It definitely defines your lashes and it does volumise, maybe not quite to the extent that the fake lashes on the model do, but they are certainly beautiful. I also find that it has the right consistency, I never have stuck together eyelashes because it's too gloopey. If I curl my eyelashes and then use the mascara they can easily touch that bit above your eyelid that fake lashes touch, length isn't an issue with this. On the boots website there are 40 reviews and it has 5 stars, definitely a winner!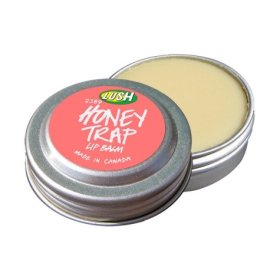 The third and final thing I wouldn't go anywhere without and I literally always do carry around in my purse is this Honey trap lip balm by Lush. They can be found on the counter along with some samples and is priced at £1.00. This is really moisturising and I always have really soft lips and it smells nice too. It leaves a nice consistency on your lips and isn't too wet or too sticky, it's just right! The little pot that I've got has lasted me months! I'd say at least half a year! definitely a bargain and I rate this ALOT higher than the "Vaseline" lip balms, they made my lips sore and felt dry! your lips will feel definitely moisturised after using this and not just for a few minutes after either.