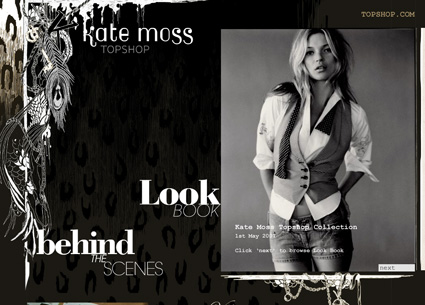 Kate Moss's last collection!
I saw this today on a magazine, and investigated! Surely this isn't the beginning of the end for Kate Moss? I do hope not! I do quite adore her!
According to sources Kate Moss is to be given the boot by Sir Philip. Rumors are that Chloe Green will be replacing her, due to Moss's energy and enthusiasm for the collection going, and thus the collection comes out twice a year instead of 6 times a year as it previously did as her team runs out of idea's for new clothing and the luster for them are gone as they are unimaginative and highly price and apparently not that well made. I think this will be a sad day since I've always found something I like in the collection but couldn't afford. However since this will be the last collection I will be buying something to remember our darling Kate by.
I do look forward to however Chloe Green taking over, I think it will be interesting to see how she will be perceived as Sir Philip's daughter and how her design skills really will contend. She does so far seem a driven young lady who knows what she wants. Will Topshop loose the new clientele that it had gained? And will his daughters collection be as good as daddy wants?
Pictures from Kate's last collection. Have her designs become less dramatic compared to the Drama that we are used to, that comes with the British rock styled model? or will we follow Kate no matter where she goes? I certainly hope that someone allows her to carry on designing since I always thought that they were a little different and very much her own style which people can't help but adore. I know that Chloe has a lot to prove though, after having Kate design for Topshop.